Queen of Riches Megaways
---
Queen of Riches Megaways on pelivalmistaja Big Time Gamingin vuonna 2016 julkaisema keskikorkean tai korkean varianssin megaways-peli, joka oli yksi ensimmäisistä kyseisen tyylisuuntauksen edustajista.
Jollain tavalla Queen of Riches oli jo julkaisunsa aikaan tyyliltään hieman "tylsä", josta kaikki bonuspelit ja muut hienoudet oli karsittu pois, mutta muuten Big Time Gaming pelimoottoreineen ja Queen of Riches tekivät suuren muutoksen nettikasinopeleihin. Lopullinen läpilyönti tapahtui viimeistään siinä vaiheessa, kun kasinosivustot ja -foorumit alkoivat täyttymään siitä otetuista voittokuvista.

Yksityiskohtia Queen of Riches Megaways -pelistä
Voittolinjoja Queen of Riches Megaways tarjoaa aina 64:sta linjasta 117 649:ään saakka, joka on jo jossain määrin yleistynyt linjamäärä ja tuttu enemmän vastaavia pelejä pelanneille. Itse peliruutu voi näin muodostua kuudesta reelistä ja yhtä pelikierrosta kohden enimmillään peräti seitsemästä rivistä.
Kuten todettua, niin mitään varsinaisia ilmaiskierrostoimintoja Queen of Riches ei tarjoa, mutta peruspelissä voi kuitenkin tavata kaksi erilaista erikoistoimintoa.
Wild-reelit, jotka voivat olla arvoltaan mitä tahansa x1-x7 voittokertoimen väliltä.
Lisäksi Queen of Riches -pelistä löytyy niin sanottu kloonaustoiminto, joka voi muuntaa kahdesta kuuteen reeliä toistensa kopioiksi.
Grafiikoiltaan Queen of Riches ei tarjoa ainakaan Big Time Gamingin pelien välillä mitään erikoista, vaan kyseessä on jo ties kuinka mones Egyptiin viittaava peli pyramideineen ja Horuksen silmineen.
Paras voittokuvio on nimenomaan pyramidi, joka tuo yhdeltä voittolinjalta, kuudelta reeliltä, ilman wildeja, panoksen takaisin 30-kertaisena. Muut voittokuviot ovat korttipakan kuviot 9-A ja joukko erilaisia Egyptiin viittaavia merkkejä.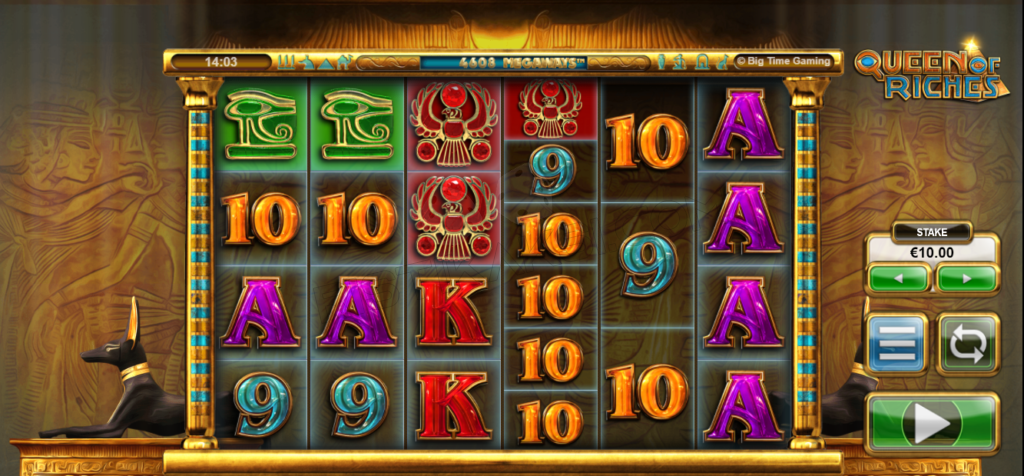 Yhteenveto
Ei tarvitse olla kovinkaan rohkea sanoakseen, että tässä vaiheessa Queen of Riches Megaways ei ole enää nettikasinoiden pelatuimpia Big Time Gamingin pelejä. Yhdessä esimerkiksi Bonanza Megawaysin kanssa se on kuitenkin yksi merkittävimmistä megaways-peleistä ja usealle pelaajalle varmastikin se ensimmäinen laatuaan, jota on vastaavista pelannut.
Jonkinlainen bonus- tai ilmaiskierrostoiminto olisi takuulla tehnyt Queen of Richesista tänäkin päivänä suositumman pelin, mutta se taas muokkaisi peruspelin täysin erilaiseksi, jotta palautus pysyisi pitkässä juoksussa siellä infotussa 96,90:ssä prosentissa.
Mikäli kaikki muu on turhaa paitsi mahdolliset suuret voitot – riippumatta tavasta mitä kautta ne saadaan, niin Queen of Richesia on tällöin helppo suositella vähintäänkin kolmen tähden verran.
Pelaa täällä
---
Tarkennettu haku
Pay N Play
Non Sticky/Forfeitable
Ilmaista pelirahaa ilman talletusta
Bonus %
0%
Bonusmäärä
0
Lisenssit
Curacao eGaming
Gambling Commission
Malta Gaming Authority
Spelinspektionen
Nollaa lajittelu
Odota hetki... Ladataan...